white foldable chairs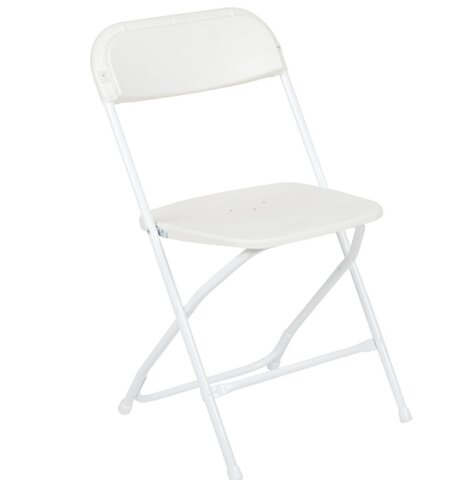 up to 6 hours base price: $2.00
over 6 hours: $2.20
Overnight: $3.00

Description
Introducing our versatile and practical White Foldable Chairs! Designed with convenience in mind, these chairs are perfect for any event or occasion, whether it's a backyard BBQ, a wedding reception, a corporate conference, or even a casual family gathering.
The sleek white finish adds a touch of elegance to any setting, effortlessly complementing any decor style. The clean and minimalist design ensures these chairs seamlessly blend into any environment, making them a versatile choice for both formal and informal occasions.Comfort is not compromised with these foldable chairs. The ergonomic design provides ample support to ensure hours of comfortable seating. Whether your guests are enjoying a meal, engaging in a lively conversation, or simply relaxing, they will appreciate the comfort and stability these chairs offer.
Safety is also a top priority with our White Foldable Chairs. Each chair is equipped with sturdy legs and a secure locking mechanism, ensuring stability and preventing any accidental collapses or slips.
Don't settle for anything less than the best - choose our White Foldable Chairs and make a lasting impression on your guests!